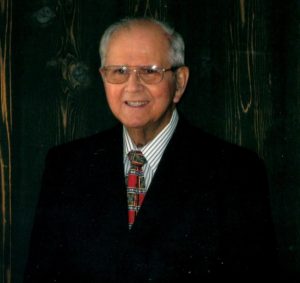 The Riverton Museum is extremely grateful to Tom Woodyard for his bequest to the Riverton Museum this past year.  The positive impact of Mr. Woodyard's extremely generous gift on the Riverton Museum cannot be understated.  It is so important for productivity and the sustainability of the museum to receive these kind of gifts.
The Woodyard family provide the following information about Mr. Woodyard so members of the community would have a better sense of who he was.  Many thanks to Mr. Woodyard and his family for their support and caring for the Riverton Museum.
"Tom Woodyard came to Riverton in 1958 as a 6th grade teacher. He enjoyed the people, lifestyle, and cool weather and was able to remain in his home until his death in October 2016. He was a native of Coles County, Illinois and maintained close ties to his family and friends there. Immediately after receiving his Masters degree from the University of Illinois, he was drafted and served proudly in the Army during the Korean War. He spent three years in Northern Arizona as a teacher and as a Seasonal Ranger at the Grand Canyon.
His Riverton teaching career spanned about twenty-five years and influenced many young people. He was an active member of the United Methodist Church and enjoyed other community activities. As family historian and genealogy researcher, he wrote and published two family books. He enjoyed traveling and was a lifelong learner with many interests. With his numerous charitable bequests his legacy continues."
Thanks,
Judy