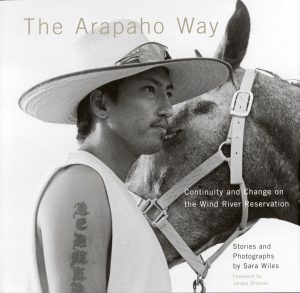 "The Arapaho Way" photographs by Lander Photographer Sara Wiles on display at the Lander Pioneer Museum starting Sept. 24
Contemporary photos of Arapaho people will be on display at the Lander Pioneer Museum's Western Gallery through the fall. The images were taken by Lander photographer Sara Wiles and published in her 2019 book "The Arapaho Way, Continuity and change on the Wind River Reservation."
The striking black and white images detail life on the reservation today, showcasing the Arapaho people's resilience and blend of modern and traditional lifeways.
Described as a profound glimpse into Arapaho culture, the 30 plus images and their accompanying narratives, bridge a gap between Indian and non-Indian communities.
Since 1973 Sara Wiles has worked on the Wind River Reservation, home of the Northern Arapaho and Eastern Shoshone Tribes, as a student of anthropology, a social worker, consultant for language and culture projects, and photographer. Her first book of photographs of Northern Arapaho people, Arapaho Journeys: Photographs and Stories from the Wind River Reservation, was published by the University of Oklahoma Press in 2011. In 2019, a second book of photographs and stories of Northern Arapaho people, The Arapaho Way, Continuity and Change on the Wind River Reservation was published, also by the University of Oklahoma Press.
Sara's photographs have been exhibited widely in the United States and Europe. Two major exhibits have been mounted at the Plains Indian Museum of the Buffalo Bill Center of the West in Cody, Wyoming. Her photographs have been accepted into juried art and photography shows across the country, and she has won many awards, including the 2000 Wyoming Governor's Art Award.
The exhibit will be on display at the Lander Museum through the fall. Call 307-332-3373 for more information or check Facebook at Pioneer Museum, Lander Wyoming.