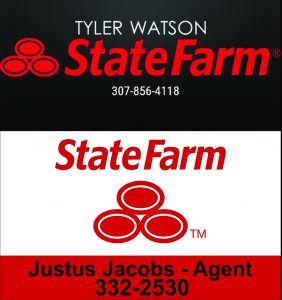 Fremont County Museums are happy to welcome State Farm in Lander and Riverton to our great group of supporters. Tyler Watson (Riverton) and Justus Jacobs (Lander) are coming on board as the title sponsors for the First Friday program. "First Friday" is a day for kids to visit the Museums for free on the first Friday of each month.
Tyler Watson believes, "The future of our county is our youth. Knowing that my team and I have the opportunity to help them expand their knowledge and learn more about the history of Fremont County brings us a lot of joy. We couldn't be more excited to be involved!" Justus Jacobs believes in supporting Fremont County Museums and our communities, "We are proud to support the youth in our community by sponsoring the "First Fridays" series. As a community we are stronger together."
Take the time to thank Justus and Tyler when you see them.