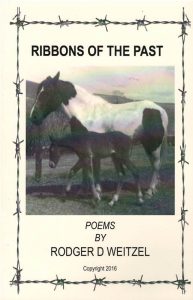 Cowboy Poetry by Rodger Weitzel at the Lander Pioneer Museum Saturday March 3, at 6:30 p.m.
The Pioneer Museum in Lander kicks off its 2018 Speakers Series March 3 with a program by respected local cowboy poet and author Rodger Weitzel.
Weitzel is known for his humorous and poignant poems about life in the Lander Valley from an old time cowboy perspective. Some of his well known poems are "The Fremont" about the old Fremont Hotel in Lander and "Memories in Mother's Trunk."
Weitzel was born in Nebraska. One of a family of 8, they raised horses. He moved to Wyoming at age 16 and continued to cowboy. After serving in Vietnam, Weitzel came back to Wyoming and began writing. His new book "Ribbons of the Past" came out last year and signed copies will be available at the program.
The program is part of the Wyoming Community Bank Speakers Series at the museum. The series will feature speakers and programs on the area's culture and history at all three county museums throughout the year. The programs are free and open to the public.
The next events at the Lander Museum will be a talk on the 150th anniversary of Atlantic City, April 19 at 7 p.m. and the museum's annual Sheep Shearing Day Saturday April 21. For more information call the museum and 307-332-3373, or on  Facebook at: Pioneer Museum Lander Wyoming  or on the web at www.fremontcountymuseums.com