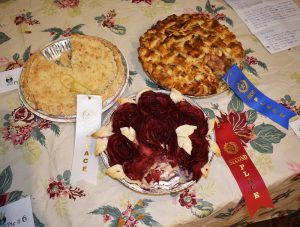 The 2nd annual Pioneer Museum Best Apple Pie Contest was a big success! We had a dozen pies entered and 6 Lander folks took home prizes and ribbons.
In the kids category Brooks Evan won 1st place, Avery and Tiny Tsentas won 2nd, and Alex Wise won 3rd. They all got ribbons and gift certificates to the museum store.
In the adult category Ruth Kress won 1st, Andrea Barbknecht took 2nd and Diane Perez won third. They won cash prizes and ribbons. Thanks to everyone who entered, helped, and donated money to the mini apple pie stand run by the Wise boys. Also thanks to our sponsor Bailey Tire and Auto Service and Pit Stop Travel Centers. Hopefully next year's contest can be part of the full Pioneer museum Apple Fest .