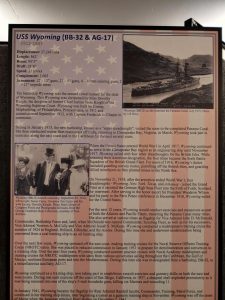 Everyone can always learn new things at the Dubois Museum. The Dubois Museum currently has a temporary exhibit on loan from Fort Caspar Museum showcasing 40 United States Naval ships named after Wyoming people and places, including the USS Yellowstone, USS Wyoming, and USS Shoshone.
The exhibit is currently on display in the Dubois Museum through February 1, 2020. Annual passes are available through a variety of ways including our Trailblazer program. School groups are welcome free of charge. To schedule a visit for a group contact the Dubois Museum at 307-455-2284.
The exhibit was made possible by Fort Caspar Museum, Fort Caspar Museum Association, Casper Memorial VFW Post 9439 & Auxiliary.