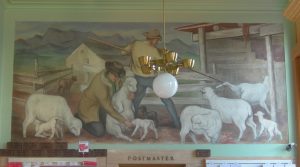 A new documentary about five New Deal era muralists is complete and ready for viewing. "Wyoming Art Matters: The New Deal Artist Public Art Legacy" features stories about Eugene Kingman, Manuel Bromberg, George Vandersluis, Louise Emerson Ronne­beck and Verona Burkhard.
A screening is set for Thursday June 7th at the Riverton Museum. This year marks the 85th anniversary of the New Deal.
The mural in Riverton by George Vander Sluis is entitled "Farm Scene". It was completed in 1942," according the Riverton Museum Site Director Karline Stetler, who is also featured in the documentary. Also at the screening will be Northern Arapaho muralist Robert Martinez of Riverton.
"This is one of those documentary projects that kept getting more interesting the further I got into it," Producer Alan O'Hashi said of the nearly three year production. "It became a labor of love that took me cross country from California to New York."
In February 1942, the New Deal Treasury Section of the Arts invited George Vander Sluis of Colorado Springs to submit designs for a mural that would go in Riverton.
The 13×6 foot painting, completed some eight months later, was the last Treasury Section job done in Wyoming. Vander Sluis was picked for the $850.00 Riverton assignment on the basis of an entry he had submitted for a Denver mural competition.
By this time, the country was involved in World War II and complicated the Riverton commission in two ways. The artist was pressed to complete his work before military induction and the Section itself was unsure of its mission, in the new wartime setting.
Each installed mural, in five Wyoming communities - Kemmerer, Riverton, Powell, Greybull and Worland (relocated to Casper, Wyoming).
O'Hashi interviewed relatives or individuals who knew the artists.
"I wanted to get insight into the life of the artist, rather than just historical facts. I was able to catch up with Denver art dealer Norm Anderson who handled many of the Colorado works of George Vander Sluis."
The project funded by the Wyoming Arts Council, the Wyoming Cultural Trust and the Wyoming Humanities Council was completed in time to commemorate the 85th anniver­sary of the New Deal. For information about screenings contact the Riverton Museum at 307-856-2665.