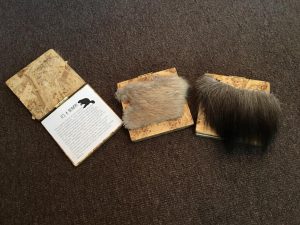 The staff at the Riverton Museum is proud to announce the grand opening of their new Hands on History room for children. This room is designed with younger children in mind (suggested ages range from 2 years to 3rd grade), however anyone is welcome to come in and enjoy what the room has to offer. Displays such as "Who's Fur is This?" feature hands on interactive and educational items where kids are not only welcome to touch but encouraged to.
"Small town museums get a bad rep sometimes because of our "don't touch" policies but with this room that no longer applies. We're so excited to offer this unique experience to families especially those with young children. This room has been a labor of love for the staff and we are excited to be unveiling it to the world."
The room will open with at least 4 interactive activities with more slated to come within the following months/years. The room will have some permanent exhibits with the rest being flexible and able to change as time goes by.
The opening exhibits will include a Weaving Loom, a 1950s typewriter, a touch and feel station for kids to feel animal furs, and a history road map with interactive magnates. There will also be coloring pages and books available for the smaller children to play with while their older siblings learn and play with the other exhibits.
The opening day for this new room will be Friday, June 1st. Free admittance to the museum will be available all day from 9am-5pm for families with children. As part of the grand opening from 1pm-2pm the Riverton Librarians will be having a special craft in the basement of the museum.