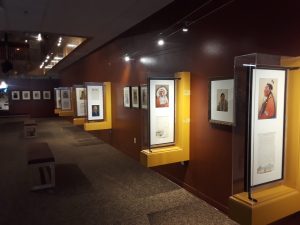 November was the opening at the Lander Pioneer Museum of a new western art exhibit called "Native Americans of Wyoming's Wind River Country."  The art, painted by Joseph Scheuerle, features tribal members from many Rocky Mountain tribes including members of the Shoshone and Arapaho from the Wind River Reservation.
Loaned to the Lander Museum by the Montana Historical Society, the exhibit will be on display through the fall of 2021.
"It's a very big deal that the Lander Museum can host an exhibit like this from such a prestigious organization as the Montana Historical Society," said Lander Curator Randy Wise. "It shows we have a growing regional reputation as a museum that has the ability to care for top quality exhibits."
Reid Schell of Handle With Care LLC was instrumental in helping get the collection to the Pioneer Museum.  Mr. Schell, of Lander,  had become familiar with the Scheuerle collection through some work for he had done for the Montana State Historic Society.  Mr. Schell approached the staff at the Pioneer Museum and worked closely with them to receive the collection on loan and to ensure its safe travel to the Pioneer Museum.
Joseph G. Scheuerle (1873-1948) was a remarkable but little-known Western artist. Beginning in 1909 he made many visits to Indian reservations in Montana, Wyoming and across the west where he painted exceptional portrait of American Indians that were, in his words, "all finished and done honestly and carefully from life and on the spot." In many cases he provided notable documentation of the circumstances wherein the portraits were painted by including whimsical sketches and commentary on the reverse. Throughout his lifetime he created more than two hundred skillfully painted portraits, and established rapport and close friendships with his models.
Born in 1873 to German parents vacationing in Vienna, Austria, he and his family immigrated to the United States in 1882. They son settled in Cincinnati where he was enrolled in a local school, but was unable to speak English. Consequently, his teachers placed him in the back of the classroom where he was free to indulge his passion for drawing and to daydream of the west.
Scheuerle attended the Cincinnati Art Academy from 1892 to 1896 where he became lifelong friends with fellow artists Joseph Henry Sharp and Henry F. Farny. After leaving the Academy he became a commercial artist for the famous Strobridge Lithographing Company in Cincinnati. There, he produced numerous circus and "Wild West" posers, among other assignments.
In 1900 Scheuerle moved to Chicago to work for the National Printing Company where he had the opportunity to paint portraits of Indian performers travelling through the Windy City with the Buffalo Bill and 101 Ranch Wild West shows. In 1904 he married Carolyn Lohrey, the couple had one daughter, Margaret. Carolyn and Margaret accompanied Scheuerle on many of his painting trips out west.
In 1910 Louis Hill commissioned Scheuerle to travel to Montana to create promotional art for the Great Northern Railway's See America First campaign, which featured Glacier National Park and other western wonders. Scheuerle also created the Great Northern's Iconic mountain goat trademark.
On one of his western sojourns, Scheuerle and Charles M. Russell became fast friends; they painted together and frequented reservations during festival times. While in Montana, the Scheuerles were welcome quests at the Russell's Bull Head Lodge in Glacier National Park.
Scheuerle made his last trip to Montana in 1938. Ten years later he suffered a fatal heart attack. He loved the portraits of his friends and was reluctant to sell them. Instead he kept them close, treasuring the memories they brought him.
While recognized by his friends and colleagues for his artistic skills, Scheuerle never received the acclaim given Russell and Sharp. Today, however, our knowledge of Plains Indian life is greatly enhanced by Scheuerle's exceptional art.