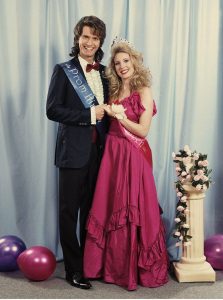 Want something fun and exciting to do during the cold days of February, or better yet to take your sweetheart out on an evening of mystery and murder the week before Valentine's Day? The Riverton Museum will be hosting their second annual Night of Mystery event this coming February 9th. Join in on a fun evening solving the murder of one of the characters during the event.
"We are very excited to be hosting a second Night of Mystery at the Riverton Museum. Our first event in 2018 was such a hit that we had several requests for another party and this year we have chosen Totally Rad 80s Prom – Gone Bad for this year's theme. So pull out that bottle of aqua–net and tease your hair for this fun evening! All proceeds go to benefit the Riverton Museum to support our educational programs" stated Karline Stetler, Site Director for the Riverton Museum.
Tickets/character packets can be purchased at the Riverton Museum at 700 East Park Avenue, Monday through Saturday, 9am-5pm. There is a limited about of tickets so get yours before they sell out! We hope to see you on February 9th.
Call the Riverton Museum for details at 307-856-2665.  Ticket include food and beverages during the event.