On Saturday February 10th the Riverton Museum hosted its First Annual Murder Mystery and Mayhem at the Museum event. The event's 40 tickets were sold out almost a week prior to the event itself! The tickets included the price for a light dinner and bar that was catered by the Catering Company out of the Trailhead. Participants arrived at the museum starting at 6pm the night of the event, dressed to the nines in all manner of western wear. Folks received character packets prior to the event that held information about their characters and costume ideas. Characters ranged from Sally Starr the saloon girl to Banker Bob and his wife Banker Bonnie. Folks were encouraged to stay in character all night and many of the participants had no trouble at keeping the act going. During the course of the evening a "murder" occurred and the participants worked together to help, or hinder, the investigation. Many folks stated that they had been working out their costumes since they heard about the program weeks ago. As a whole the event was a smash hit!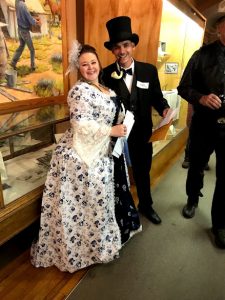 "We're definitely going to try to do another event like this next year but change up the theme. We got tons of positive feedback from this event, and honestly, it was fun for us to put something like this on. We learned a lot from the experience and we're hoping to expand upon that knowledge for next year," said Felicity Boepple, the Riverton Museum's Visitor Service's Coordinator.
Prizes were given out for the first person to solve the murder, Best Costume, Best Acting, and more! The staff at the Riverton Museum would like to thank everyone who participated in the event as well as everyone who helped to make this program a reality.
The event was proudly sponsored in-part by First Interstate Bank out of Riverton.