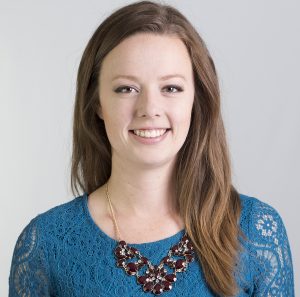 The Riverton Museum is excited to name Megan Ostrenga as their new Site Manager. Megan moved to Riverton from Lubbock, Texas and began working during the last week of August. She has hit the ground running with new ideas for updating the museum's exhibits and programs and welcomes any ideas for the future.
Megan obtained a M.A. in Heritage and Museum Sciences from Texas Tech University and a B.S.Ed. in Secondary Education and Earth Science with minors in Biology and Music from Northern Arizona University. During her time in Flagstaff, Arizona, Megan worked as a Science Educator at Lowell Observatory, the home of Pluto, and decided to pursue a career in museums because of her experience. While in Lubbock, Megan worked for the Museum of Texas Tech University caring for both Paleontological and Anthropological collections and served as the President of the Museum and Heritage Student Association. Additionally, Megan was a group fitness instructor at the Texas Tech recreation center and discovered a passion for watching college basketball.
Megan was very excited about her move to Wyoming and for all of the outdoor opportunities the area offers. As the Site Manager, Megan is the most excited to learn about the history of Riverton and to weave the town's story throughout the exhibits and programs offered at the museum. Feel free to stop on by for a visit or to participate in one of our upcoming programs!