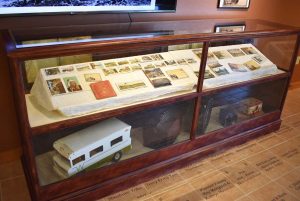 The Lander Pioneer Museum has a new temporary Lobby exhibit on Lander and Wyoming tourist souvenirs. Spoons, plates, cups, postcards and more touting the areas tourist attractions are on display until the fall.
Souvenir anyone?  A souvenir, a memento, a keepsake, a reminder, a remembrance. Besides taking up space in your home your souvenir prompts personal memories of a previous experience.
Looking at the image or handling your keepsake brings you back to the event, the date, the place, the environment and your mood when you purchased or picked it up.
Types of Souvenirs
A "piece-of-the-rock" souvenir is one you pocket. Such as a rock, a shell or small piece of wood.
A "marker" souvenir is physically branded with the location it was made to represent.
A "symbolic shorthand" souvenir is a miniature replica. Could be a building, a statue, or that key chain                                       featuring a Van Gogh painting.
A "pictorial image" souvenir is a poster, postcards, photographs, or the images on your phone you are collecting.