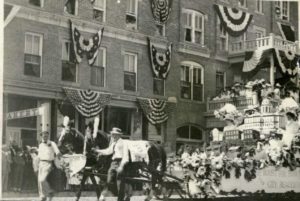 Have you ever wondered what that old building at the corner of 2nd and main was originally? What is the oldest building on Main Street? Where the first bank in Lander was? Where Butch Cassidy often had a drink?
A new audio walking tour of Lander will answer those and many other questions. Called "Lander Downtown, where the rails ended and the trails began," the tour is now available for download to your phone or device. The service is free.
You can explore the vibrant history of Lander, Wyoming. From its beginnings as a rough, isolated army fort at the edge of the wilderness, through the frontier days of Butch Cassidy, Calamity Jane and Shoshone Chief Washakie, to the coming of the railroad and growth into a settled, bustling Victorian town, you'll walk in the steps of Native Americans, explorers, gold miners, cowboys, outlaws, ranchers, traders, trappers and dreamers on this walking tour of the past.
To get the tour, go to the App store on your phone and search for TravelStorysGPS. The app is a free download. The Lander tour should pop up on your device, along with other nearby tours, if not search for "Lander." Once the tour has downloaded you are ready to take a walk and learn about Lander's fascinating history.