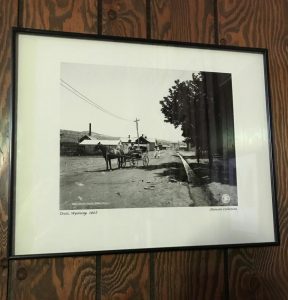 A traveling exhibit from the Wyoming State Museum is on display at the Riverton Museum that examines the work of photographer Joseph E. Stimson, who captured the beauty of Wyoming in the early 1900s. Stimson was noted throughout the United States for his artistic skills with a camera and his hand-colored photographs. Coming from humble beginnings in Virginia where he was born and raised Stimson soon joined two of his brothers in Cheyenne and started up a photography business there taking portraits. He was later asked to join the Union Pacific as their photographer.
"I am really interested in this exhibit from the Wyoming State Museum. Joseph Stimson was given the opportunity to take photographs for the Union Pacific railroad as a publicity photographer which provided him the chance to travel across the state of Wyoming photographing various areas. The photographs on display are full of life and you can spend a good few minutes looking over each photograph because they are filled with so much detail" stated Karline Stetler, site director for the Riverton Museum.
Joseph Stimson's career as a photographer spanned 59 years and he produced more than 7,500 images most of which reside in the Wyoming State Archives. The traveling exhibit on display at the Riverton Museum will run from the first of September into the second week of October where it will be packed up and returned to the Wyoming State Museum.
Stop by the Riverton Museum at 700 E Part Ave to take a look at this wonderful collection and enjoy more of Riverton's great cultural heritage.