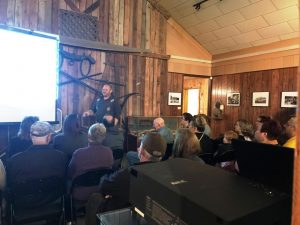 It was a full house at the Riverton Museum on Saturday, October 6th for one of their Discovery Speaker Series, sponsored through Wyoming Community Bank. For the month of October the program focused on ghost stories, urban myths, and legends of the Riverton and Fremont County area.
"This was a fantastic talk for this time of year," stated Karline Stetler, site director for the Riverton Museum. "We had a full-house of community members from all over Fremont County that joined us for an hour of spooky tales. From the senior citizen to the ten-year old, everyone reported a great time."
Alma Law, who is an English teacher at the Riverton High School, was the presenter for the afternoon where he spoke on his research on the various ghost stories from the area. Using photos via PowerPoint to help guide the presentation, Mr. Law regaled the audience with a number of haunting tales from around the area.