The Fremont County Museums are sharing artifacts in a project to help understand and communicate the role of Elk on the Wind River Reservation.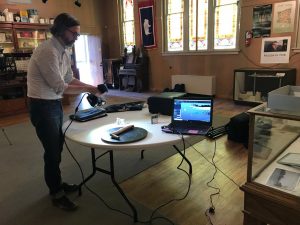 The project, run by the High Plains American Indian Research Institute, the Wyoming Humanities Council and Wyoming School districts #14 and #21 is examining the role that Elk have in the culture of Native American people. Tribal members will play a lead role in incorporating the information into schools and communities on the Wind River Indian Reservation, and the work will help serve as a model to incorporate Native American curriculum throughout Wyoming schools as envisioned by the recent Indian Education for All legislation.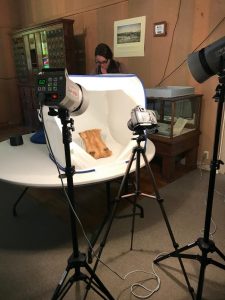 They visited all three Fremont County Museums (Dubois Museum, Pioneer Museum in Lander, Riverton Museum) this week to examine and do high resolution 3D scans of a variety of artifacts made of elk hide, bone and teeth.
At the Lander museum a team used state of the art equipment to scan and record Elk hide gauntlets, necklaces made from Elk ivory and other items.  The Riverton Museum has two artifacts that were part of the project, an elk antler hide scraper, and a hide purse made out of elk skin.  The Dubois Museum participated in the project with a painted elk hide and a beaded elk hide jacket.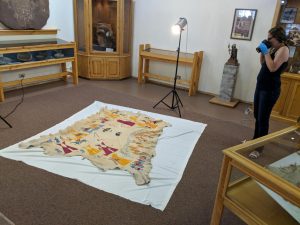 The photographs and video recorded will be added to the Elk Culture Collection in the care of the High Plains American Indian Research Institute and will be available to everyone. The project has received financial support from the National Endowment for the Humanities (NEH) to the University of Wyoming. Private fundraising is underway for UW to match the $150,000 NEH award.