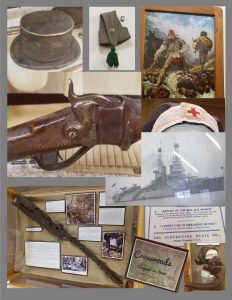 The area known as "Dubois" today acts a main crossroads for all of life, and the Dubois Museum tells the "crossroads" story through several new exhibits. "The addition of artifacts from the James D. and Iva Mae Stewart Collection, most notably the firearms collection, has made it possible for us to tell a better story about the crossroads that is now Dubois." says Johanna Thompson, Site Director.
"Crossroads 1820s-1840s" talks about the Fur Trade era. Items on display include two authentic beaver fur hats, a Russian model 1819 musket from the James D. and Iva Mae Stewart Collection, and several other mountain man artifacts. There is also a painting depicting life of the Fur Trade by the local artist John Phelps.
Buffalo are the center of attention in the Museum's "Crossroads 1840s-1880s" exhibit. Displayed alongside a buffalo hide coat is an 1874 Sharps Rifle. Also called a "Buffalo Gun," this firearm could have certainly killed buffalo, but it is not likely the hunting of huge numbers of buffalo actually happened in the Dubois area. Still the demand for buffalo hides and the extensive trade routes that existed found their way to and through Dubois.
Many historical institutions in the United States celebrated the 100th anniversary of World War I, including the Dubois Museum. "Crossroads 1914-1918" illustrates the different activities people did on the Home Front. From practicing food conservation to holding book drives, the people of Wyoming did their part. A Red Cross veil, part of the CM Ranch Collection, and WWI sheet music, including a piece written and published in Dubois by the Clendening Music Co., create a diverse image of the home front for visitors to view.
The Museum's newest exhibit reflects on the day an Army B24 Liberator bomber entered the crossroads of Dubois and never left. "Crossroads August 14, 1943" has a great deal of information about the history of the crew and aircraft of the ill-fated flight. One of the .50 caliber machine guns recovered from the sight along with the records of eyewitnesses who saw the large bomber before it crashed is on display. This year marks 75 years since the crash that changed the name of Henton Basin to Bomber Basin.
Explore these new exhibits and relive some older ones this summer at the Dubois Museum!