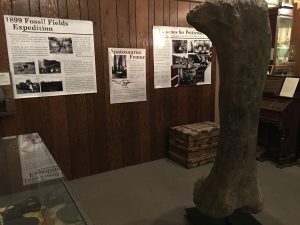 Opening this month at the Riverton Museum, a new temporary exhibit from the University of Wyoming is on display. This display is titled "Cowboys to Curators" and touches on William Reed who was at the center of western fossil discovery. It highlights the history and timeline of fossil discovery with the University of Wyoming. The exhibit also has a section showcasing women's history with the geology studies at UW. This display also includes a large replica of an Apatosaurus femur bone.
Felicity Boepple, the Riverton Museums Visitors Services Coordinator had this to say about the display. "We're very excited to have this display available for the public to enjoy in our museum. This isn't the first time we've worked with the University of Wyoming, and we're incredibly please that the partnership has continued and improved. This display is nicely put together and enjoyable for patrons of all ages."
This temporary display will be available for viewing at the Riverton Museum starting September 18th and is free with admission to the museum. The museum is open 9am to 5pm Monday through Saturday. For more information please call 307-856-2665. The museum is located at 700 E. Park Ave.